MEET THE DIRECTOR FOR BLOCK MANAGEMENT PARTNERS
We sat down with the Director for Block Management Partners, Chrissy Mouskis, for the first edition of our 60 seconds with interview.
If you would like to find out more about Chrissy Mouskis or the team, please visit our 'Meet the Team' page.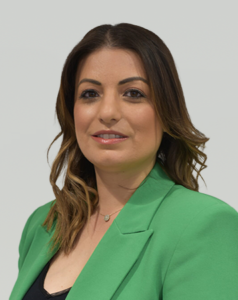 What do you like most about your job?
I love the variety my profession brings and the opportunity it gives me to be innovative and bring something new to the market. I enjoy collaborating with other businesses, seeing our Partners increase in size and the knowledge that our back-office services ensure compliance and upholds a high level of customer service in the marketplace. You don't often get the chance to be bold and transformative in our industry, so taking on this new and fresh approach has been exciting.
Working with my team and participating in the customer journey together makes going to work enjoyable.
What are you most looking forward to this year or to achieving this year?
The growth in the number of Partners signing up to the network is our greatest achievement. Hitting over 50 Partners has been a huge milestone for us. Working with such an eclectic mix of businesses, each with different personalities and a unique wealth of experience and knowledge, has been both refreshing and exciting.
In the future, I am looking forward to all Partners utilising the complete suite of solutions and reaping the benefits, enabling them to focus on their brands and their client base.
What do you enjoy doing outside of work?
I love spending time with my family and having quality time together is important. My husband and I have two girls and we try to be as active as possible, whilst also enjoying long walks together and catching up on the week's events. I absolutely enjoy going to the cinema to watch the newest releases, socialising with friends and exploring new bars and restaurants.
What made you pursue this career?
I have always had a love of all things property and working in this field has been a natural progression. As I have worked my way through various roles, my familiarity with the development and characteristics of block management has significantly grown.
Over the course of my 18-year career, each role I've held has given me a fresh and unique perspective, allowing me to develop an in-depth understanding of property management from a variety of angles. As a result of my development and application in each capacity, my expertise has increased, and it has now all come together in my current function as Group Director.
I enjoy collaborating with people and businesses, combined with my block management experience, places me in good stead to lead the B-hive Block Management Partners brand.
What is your favourite thing about B-hive Block Management Partners?
I love the fact that B-hive Block Management Partners is the only company in the block management sector offering back-office solutions for client finances, compliance, marketing, systems, and technology.
We offer the ideal partnership to any entrepreneur looking to start their own business, existing businesses that wishes to add block management as a new discipline, or businesses that simply wish to streamline their back-office efficiencies, thanks to our expert support across our divisions and our wealth of experience.
I truly believe that B-hive Block Management Partners is best positioned to serve what currently is a fragmented market by giving local operators the opportunity to really focus on providing excellent customer service and streamlining their operations.
We strive to be the back office to the block management industry…
GET IN TOUCH
Would you like to discuss our proposition? Get in touch with the B-hive Block Management Partners team for more details and we will also send you our service brochure. Alternatively, you may prefer to speak in confidence with our independent management consultants – Add Melon Ltd (Contact; David Brown, Director) www.addmelon.co.uk.