MEET B-HIVE PROPERTY SOLUTIONS' DIRECTOR OF HEALTH AND SAFETY
We sat down with B-hive Property Solutions' Director of Heath and Safety, for the latest edition of our 60 seconds with interview.
If you would like to find out more about David Flack or the team, please visit our 'Meet the Team' page.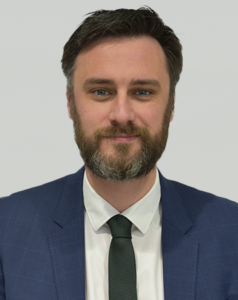 David Flack is the Director of Health and Safety for B-hive Property Solutions. David has worked for the Group for over 8 years in a variety of roles, and works with others across the industry through ARMA and TPI in shaping how the ever changing safety regime is adopted.
What do you like most about your job?
My role covers so many different elements, but they almost all come back to ensuring the safety of those in managed blocks, the residents, the contractors and any other users who occupy the building. It is easy to get lost while you're knee-deep in the detail but ultimately it is about ensuring the safety of people in their homes. Is there anything more rewarding than that?
What are your greatest challenges/do you face in your role?
As a result of the Grenfell tragedy, the industry is in the midst of some significant and much needed change. Overhauling the legislation and the way a buildings safety is managed is a large part of this. Working with others in the industry in creating a new framework to assist clients in dealing with this change is certainly a challenge at the moment.
What do you enjoy doing outside of work?
Having a young family probably means I don't get to enjoy many of the hobbies I used to, although I have recently taken up skiing. No broken bones so far and I am already planning my next trip.
What is your favourite thing about B-hive Property Solutions?
I would say having access to such an extensive and knowledgeable support network. Leasehold management is incredibly complex, anyone who has worked in the field for given time will tell you the same. Needing in depth answers on landlord & tenant law, accountancy, company law, Health & Safety and other areas is next to impossible for any one person find, but with the right team of experts behind you, it suddenly becomes a lot easier.
What made you pursue this career?
I am one of those rarities that has a genuine interest for health and safety, and the residential sector is an industry where health and safety is still evolving. I find it quite exciting to be involved in this field and knowing that the decisions I help make will have a lasting impact on the industry gives me a sense of accomplishment.
GET IN TOUCH
Would you like to discuss our proposition? Get in touch with the B-hive Block Management Partners team for more details and we will also send you our service brochure. Alternatively, you may prefer to speak in confidence with our independent management consultants – Add Melon Ltd (Contact; David Brown, Director) www.addmelon.co.uk.